14 - Algalon Strategy Guide
saedo — Fri, 06/26/2009 - 11:12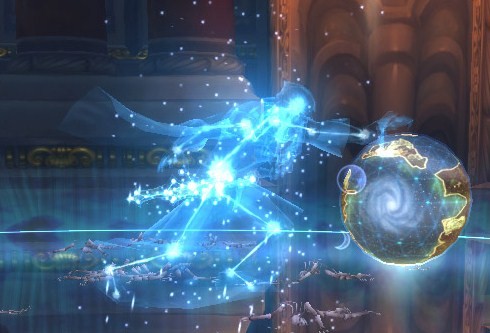 Note:
You may only fight him one hour per week before he despawns.
Health:
Heroic: 34.83M
Normal: 8.37M
8 minute Enrage
Abilities:
Cosmic Smash: Calls an abyssal boulder from the sky, dealing 41,438 to 43,562 Fire damage (53,625 to 56,375 Heroic).
Black Hole Explosion: 15675 to 17325 Shadow damage inflicted to enemies. Instant (20,475 to 21,525 Heroic)
Quantum Strike: Strikes at an enemy, inflicting 15675 to 17325 Physical damage. 5 yd range (34,125 to 35,875 Heroic)
Phase Punch: Massive blow that inflicts 8788 to 10212 damage and slowly fades the target to another plane of existence. 5 yd range
Big Bang: Inflicts 76,313 to 88,687 Physical damage to nearby enemies. 8 sec cast, 3 sec cooldown (107,250 to 112,750 Heroic)
Ascend to the Heavens: Inflicts 655,500 to 724,500 Arcane damage to enemies. 2 seconds cast. (Berserk)
The Fight:
Gist of it is a 2 tank fight, with massive raid damage, damage to avoid, and adds to kill at proper times, with a bit of running around, and tank CD management.
Phase 1:
First note, he hits hard, but no frontal damage, so position where ever and DPS away. Have the OT try to keep 2nd on threat, and be ready to taunt. Algalon does a Phase Punch, which stacks, and at 5 he'll basically ignore that tank and go for 2nd on threat. Healers be ready to switch.
Every 25 seconds occasionally do a Cosmic Smash one random player (3 in Heroic), just something to not stand in, fire/void zone/rockets/etc.
15 seconds into the fight he will summon 3 (4 Heroic) Collapsing Stars. On their own, they'll blow up dealing 16K (20K Heroic) to everyone in the raid, each. What the dps (1-2 ranged) have to do is kill them one by one, so they don't all blow up at the same time wiping us. They also have to coordinate with Healers to prepare for that massive spike explosion damage each time. Else it could very well kill the tank. Each one that dies drops a Black Hole.
50 seconds into the fight, he will summon 3 Living Constellations (guessing that's Heroic, and only 2 in Normal). They have threat, do damage, etc. But the trick is, if they cross over a Black Hole, they instantly die, taking the Black Hole out too. So ranged, healers would be best to kite them into one. Or a Death Knight just using Death Grip over one.
Every 90 seconds, Algalon casts Big Bang, raid wiper move. This is where Black Holes come into play again. Everyone but 1 person should click on them and get inside one, preferrably the same one, cause they will phase you out of the fight. 1 person has to stay behind else Algalon will berserk.
Inside the Black Hole, everyone takes 1500 per tick shadow damage, and elite Dark Matter mobs will be around, avoid those if possible until Big Bang is over.
The Big Bang will ignore immunity effects, so for the one person to survive it, a damage reduction CD is needed. After the cast, everyone is kicked out of the Black Hole and threat is reset. So a tank is likely best to stay out so he can pick it up faster, but not neccessary if fast enough.
Repeat til 20%.
Phase 2:
Everything that was around will despawn (adds, holes, etc). Algalon will summon 4 specific Black Holes at each "corner". Every 30 seconds 1 Dark Matter will come out from each and the OT has to pick them all up and tank them in a corner.
It's a DPS race to burn Algalon down before the Dark Matter overwhelms you raid.
It is also recommended to switch tanks at 20% so the one tanking Algalon is fresh from Phase Punches. This gives you maybe a minute to kill Algalon before you're forced to tank swap, which can get messy with all those adds. Kill him before you're forced to try that.
Achievements:
Herald of the Titans: Defeat Algalon the Observer on Normal Difficulty without anyone in the raid wearing any equipment with an item level higher than 232.
Title Reward: Herald of the Titans
Basically beat him without any 25 man Hard Mode loot. Supposed to be the 10 man progression path defeat.
Observed: Defeat Algalon the Observer on Normal Difficulty.
Title Reward: Starcaller / The Astral Walker (Heroic)
Kill him for a title in itself
Supermassive: Defeat Algalon the Observer while closing 3 Black Holes (4 in Heroic) within 10 seconds on Normal Difficulty.
Sounds like fluff to kill him while blowing up Black Holes specifically
He Feeds on Your Tears: Defeat Algalon the Observer without any raid member dying on Normal / Heroic Difficulty.
Raid check, kill him without deaths on the very first pull.
Sources: