07 - Auriaya Strategy Guide
saedo — Thu, 04/16/2009 - 13:08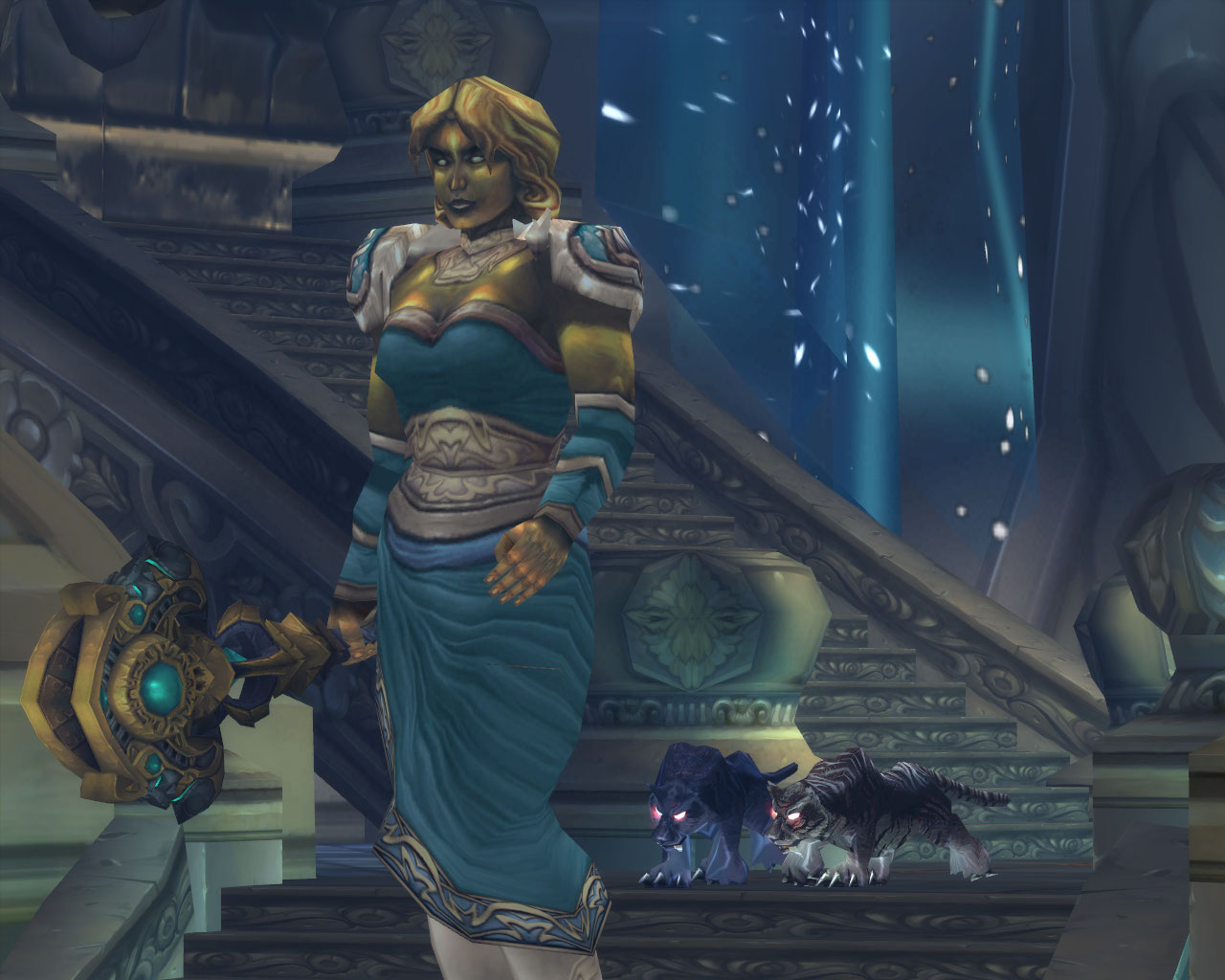 Health:
Normal: 3.2M
Heroic: 16.73M
Abilities:
Sonic Screech: A Sonic Shockwave that deals 231250 to 268750 Physical damage to all enemies in its path. The Shockwave damge is split between all targets in its path. 50000 yd range, 2.5 sec cast, 4 sec cooldown
Sentinel Blast: Inflicts 6000 Shadow damage and increases Shadow damage taken by 100% for 5 sec. Stacks. Instant
Terrifying Screech: The screech strikes fear into the hearts of all nearby enemies, causing them to flee in horror for 5 sec. 2 sec cast, 8 sec cooldown
Summon Swarming Guardian: Auriaya occasionally spawns a wave of panther adds (~20 mobs) with a low amount of health points. You can easily AoE them.
Sanctum Sentry:
Starts with 4 adds in Heroic, 2 in Normal
558K HP in Heroic, 335K HP in Normal
Savage Pounce: A savage pounce that inflicts 13875 to 16125 Physical damage and an additional 7400 to 8600 Physical damage every second for 5 seconds.
Strength of the Pack: The presence of other members of the pack increases damage done by 50% to all members of the pack within 20 yards.
Feral Spirit:
Spawns 1 min into the fight
835K HP in Heroic, 200K HP in Normal
Starts off with 9 Feral Essences (his 9 lives)
Feral Essence: Each essence increases the damage dealt by the Feral Defender by 50%. The Feral Defender can revive itself at the cost of one of its Feral Essences.
Feral Rush: Charges an enemy, dealing Shadow damage and interrupting spell cast for 6 sec. 80 yd range
Feral Pounce: The Feral Defender pounces the target stunning them for 5 sec and inflicting Shadow damage every 1 sec. 5-45 yd range
Seeping Feral Essence: The Seeping Essence of the Feral Defender Inflicts 9000 Shadow damage every 1 sec. This is a void zone-like effect triggered where the Feral Defender spawns and dies.
The Fight:
First thing of note, the raid must ALWAYS be in the same LINE. Not neccessarily stacked on top of each other, but along to the same line to take the Sonic Screech, damage is split among all hit, and you're fucked if it's not split several times over. I estimate probably at least 15 people in Heroic have to split it to not fatally hit the raid.
This means, the melee have to either spend a the entire time attacking from the front, or be very good at rotating from back to front the whole fight. The thing is a 2.5 sec cast, so there is time to move. I found it quite easy to simply rotate back to front. This is probably more for raid helping to mitigate damage, perhaps we don't need everyone to be hit, just enough.
Second thing of note is fears. Tremor totems should handle it for us. Just get back in position ASAP if you got moved in case of Sonic Screech.
The adds, have a stacking buff where they gain 50% more damage if they're within 20 yards of each other. So for the pull, the OT stands 20 yards away from the MT. The OT takes one add. The MT takes the boss and the other add. The raid itself must be between the 2, so you're all in that same line for Sonic Screech.
In 10 man, we did a zerg the adds thing, everyone just dogpiled in a corner above the stairs where she pats. Used Deatth and Decay to pull them. Zerg'd down both adds. Then her. This may or may not be doable in 25 man. For 1, there's 4 adds, so they're gonna get super buffed and hit hard.
Tank and spank. The whole deal is mostly keep the raid together along the same line with occasion fears and damage here and there. Also small shitty panther adds spawn to be quickly aoe'd down.
About 1 min into the fight, a Feral Defender will spawn. Killable, but takes 9 tries, and each death drops a void zone. OT is to just take it behind raid. He will jump and run all over the place, so have fun with that.
Then the rest of the fight is burn down Auriaya again. If we do kill Feral Spirit, move well away from the void zone, and the raid has to move too keeping the line dance.
For 25 man the pull was done via snake traps. We dogpiled behind the same pillar, and the tanks MUST pop their CDs initially so the cats don't rape them. Kill the cats, kill Auriaya. One added "problem" in 25 man that with the additional aoe, the Feral Spirit was eventually taken down leaving a Void Zone.
Achievements:
Crazy Cat Lady: Defeat Auriaya without destroying her Sanctum Sentries on Normal/Heroic Difficulty.
They have to be tanked away from all the aoe splash damage. Also due to the stacking bleeds, the tanks must trade off in 10 mans. Don't do it during aoe phases. Otherwise, zerg her down.
Might be tricker to do in 25 man due to 4 adds. Might need 1-2 extra tanks (on top of the 3 we bring) to rotate in to take the bleed. Old School 4 Horsemen style?
Nine Lives: Defeat the Feral Defender while defeating Auriaya on Normal/Heroic Difficulty
This involves killing the thing 9 times, each time of course drops a void zone, so better do it well away from the raid. And making sure to not dps Auriaya too fast so the Defender can pop up again.
Trash Info:
Titan Packs: They come in 2s, you only need to take the pair on either side of the walkway. And must be tanked seperately, but not too far apart. After I believe it was 40 yards, they gain "Seperation Anxiety" and fuck us up. Anyways, the trick to this is that randomly, one of them will spawn a big ball of spark. This spark will slowly travel towards the other one, and if it reaches, they get a power boost and starts aoe'ing. The goal is, have the ranged and stuff inbetween, and fuck up those sparks before that happens. Also, it is advisable for both adds to die relatively close to each other, not neccessary though. You see, when one dies, the other gains a buff, hitting harder and faster. You can heal through it if you choose so, or try to get em to die together to mitigate that berserk time.
Sources: