10 - Freya Strategy Guide
saedo — Sat, 04/18/2009 - 13:05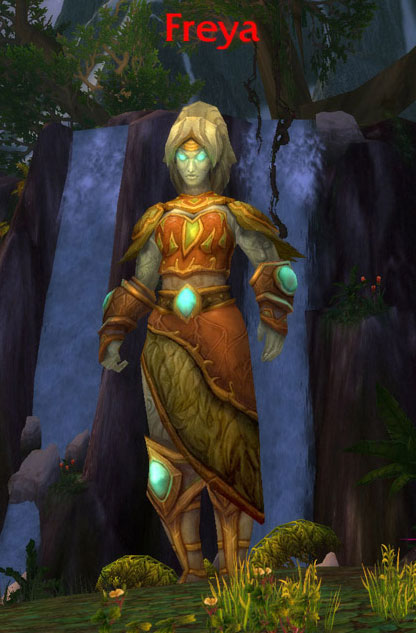 Health:
Heroic: 4.2M
Normal: 1.4M
Abilities:
Touch of Eonar: The pressence of the Lifebinder heals Freya for 24000 health every 1 sec. Instant
Attuned to Nature: Increases healing received by 4%. She starts the fight with 150 stacks of this buff (for a total of 600% extra healing). Killing the adds spawned throughout the fight will lower the stack count.
Killing the Ancient Conservator removes 25 Stacks
Killing an Ancient Water Spirit, a Storm Lasher, or a Snaplasher removes 10 Stacks
Killing a Detonating Lasher removes 2 Stacks
Sunbeam: Inflicts 7400 to 8600 Nature damage to enemies within 8 yards of the target. This effect will affect players. AND The rays of the sun heals the plant life for 10000 damage every 1 sec. This effect will affect monsters.
Summon Lifebinder's Gift: Somewhere within 60 yards of Freya, a Lifebinder's Gift is summoned, which is a non-mobile, non-attacking mob with ?k HP (37k on Normal). This mob emotes 'Lifebinder's Gift begins to grow!' as it is summoned. It continues growing for about 15 seconds. If it is not killed in that time, it performs a powerful heal
Seedling Ability: After Freya summons six packs of adds and her stack of Attuned to Nature buffs dissipates, she will stop spawning them and instead use this ability. Seedlings are thrown on the ground which explode a few seconds later, dealing damage and knocking nearby characters up into the air.
Detonating Lashers:
Flame Lash: The Lasher inflicts Fire damage equal to 150% of their melee damage. 4% of base mana, 5 yd range, Instant cast
Detonate: The Detonate inflicts 6825 to 7175 Fire damage to enemies within 15 yards. Instant
Ancient Water Spirit, Storm Lasher, Snaplasher:
Ancient Water Spirit:
Tidal Wave: Surge through enemies in a line. Deals inflicts 5700 to 6300 Nature damage knocking them back.
Storm Lasher:
Hardened Bark: Attacks made against the Lasher trigger the protective bark to grow, increasing damage by 10% and slowing move speed by 5%. Lasts 4 sec, stacks up to 99.
Snaplasher:
Stormbolt: Inflicts 8788 to 10212 damage to an enemy. 40 yd range, 1.5 sec cast
Lightning Lash: Deals about 7500 (5500 on Normal) damage to a target and chains, increasing its damage, to 4 successive targets (2 on Normal). 2 second cast.
Ancient Conservator:
Nature's Fury: Infects an enemy for 10 sec, causing it to inflict 5550 to 6450 Nature damage to its nearby allies every 2 sec.
Conservator's Grip: The grip of the Protector prevents attacking and casting spells. This can be cancelled by staying under the mushrooms while the Conservator is here, this will also buff your damage by 25%
The Elders:
This fight has a similar mechanic to Sarth3D with 3 Elders now to kill before Freya if we want easy mode. 4.46M hp each in Heroic.
Elder Brightleaf:
Unstable Sun Beam: Increases damage and healing done by 5% until the energy of the beam collapses. Stacks up to 10 times.
Unstable Energy: Inflicts 16650 to 19350 Nature damage and cancels the effects of Unstable Sun Beam.
Photosynthesis: The rays of the sun heals the plant life for 10000 damage every 1 sec.
Solar Flare: Inflicts 12950 to 15050 Fire damage to a number of targets based on Brightleaf Flux.
Brightleaf Flux - Positive: Damage and healing from spells and effects is increased by 10%.
Brightleaf Flux - Negative: Damage and healing from spells and effects is reduced by 10%.
Elder Ironbranch:
Impale: Stuns and inflicts 32375 to 37625 Physical damage every 1 sec for 5 sec. 5 yd range
Iron Roots: The grip of the Iron Roots inflicts 7863 to 9137 Nature damage every 2 sec and roots the target until freed. If the Iron Roots surrounding the targets are killed, the target will be released. 50000 yd range, Instant
Thorn Swarm: Inflicts 12488 to 14512 Nature damage to enemies within 6 yards of the target
Elder Stonebark:
Ground Tremor: Deals 11400 to 12600 Physical damage to enemies within 100 yards, interrupting any spells being cast for 8 sec
Fists of Stone: The stone fists slow the caster's move speed by 20% and increase damage dealt by 250%. In addition the devastating attacks have a chance to break the bones of the target, reducing chance to block, dodge, or parry by 100% for 20 sec.
Petrified Bark: Melee attacks and abilities will be reflected for 30 sec. 220 charges. (80 in 10-Man)
Hard Mode:
Leaving all Elders up is hard mode, granting Freya and all adds buffs.
Brightleaf's Essence: The essence of Elder Brightleaf increases Magic damage dealt by Freya and her Allies of Nature by 50%. 50000 yd range, Instant; Grants Freya Unstable Sunbeam
Stonebark's Essence: The essence of Elder Stonebark increases physical damage dealt by Freya by 50%. 50000 yd range, Instant; Grants Freya Ground Tremor
Ironbark's Essence: The essence of Elder Ironbranch increases Physical damage dealt by Allies of Nature by 50%. 50000 yd range, Instant; Grants Freya Iron Roots
The Fight:
This fight is pretty much all about adds. First off, if we do easy mode, we clear all the Elders (and trash) around the Conservatory. Similar to Sarth3D, each have their own little abilities, but should pose no problems on their own.
Brightleaf: Lasers pew pew
Stonebark: Heal the impaled, break people out of roots
Ironbark: Don't cast during Ground Tremor or you get silenced. Might need to switch tanks for Fists of Stone. Kite taunt if neccessary. Don't kill yourself during petrified bark, that reflects physical damage.
For Freya herself, adds. First thing of note she has a self healing her for 24K per sec, which is outdps'able. But she also has a stacked buff that increases her healing by 4% per stack, and she starts at 150 stacks, so 600% healing at the start. Now that we can't dps through.
The trick is, she summons adds, and each add we kill, it reduces the stack by certain amounts. So basically until we pass the first few waves of adds, we won't be able to do much damage to her.
First add of note is the Lifebinder's Gift, those must be killed within 15 seconds or it'll pull off a big heal on everything. Stop em.
Next thing are the add waves. They come in 3 flavors, Lashers, Elementals, and Conservators. They spawn in a random order, but always appearing in one of the 3, but never 2 in a row if you get this meaning. Think of it like the Mage boss in Occulus, 3 types of waves, and he will always summon 1 of each, random order. But with Freya, after the 3rd one, it randomizes for the next set, but still never 2 of the same type in a row.
The first one comes about 15 seconds into the fight, then 60 seconds afterwards. Adds are the priority.
Lashers: 12 of them spawn around Freya, they have random aggro, they'll be all over the raid, they also blow up on death. So mass aoe is likely to get people killed. Suggested courses of action are to do some aoe, then switch over to single target to handle the explosions one by one.
Elementals: A set of 3 elementals spawn, and they must be killed simultaenously (within 10 sec). 2 of them can be tanked. Water Spirit charges and knocks ppl back. Storm Lasher can be kicked and all, do so cause his chain lightning has the usual pattern of doing more damage the more it chains through. Stonelasher though is likely not tankable, well he is, but each hit done to him will buff him to do more damage. But it also slows him down til he stops altogether. Ranged kite him til that occurs, it is safe for melee to attack so long as threat is below the ranged tank.
Conservators: Only 1 of these will spawn at a time. Basically 2 things to be aware of, stay under the good mushrooms or you won't be able to do anything. Run the fuck away if you have the bomb (Nature's Fury).
And that's pretty much the fight. Adds come in, kill em all. Kill Freya inbetween adds. Oh and avoid lasers.
After about 6 waves, her stacks should be all taken care of, so no more of those adds at least. She'll still summon the Lifebinder so kill that before it can heal her. Also she gains new ability to sprinkle seed bombs, stay away from those.
Achievements:
Lumberjacked - Defeat Elder Brightleaf, Elder Ironbranch and Elder Stonebark within 15 seconds of each other on Normal/Heroic Difficulty.
So this sounds like we gotta pull all 3 at once and kill em together, somewhat. But they're on opposite ends of the Conservatory. If we tank em all together, we'd have to watch for Healing Beams, break people out of roots, Impales, Ground Tremor silence, etc. Or would it be a split the raid up thing and each deal with the bosses simultaneously. This sounds harder to pull off in a 10 man.
Con-speed-atory - Defeat Freya within 20 minutes of the first creature you kill in the Conservatory of Life on Normal/Heroic Difficulty.
Just a speed run. With enough gear, knowledge, and probably easy mode, this should be easy.
Deforestation - Defeat 2 Ancient Water Spirits, 2 Storm Lashers and 2 Snaplashers within 10 seconds on Normal/Heroic Difficulty.
This seems tricky, would have to offtank the 1st elemental pack until the 2nd one appears then kill em all together I believe. Probably the snaplashers should be merely hit til rooted and left alone til the 2nd one.
Getting Back to Nature - Defeat Freya while she is affected by 25 stacks of Attuned to Nature on Normal/Heroic Difficulty
This could take luck. It means leaving the last pack, possibly the last 2 packs up and kill Freya. It might be 2 cause the Lasher packs only take down 20, so if they're last and we killed the rest, Freya would only have 20 left. Then you'd be dealing with 45-50 stacks. That'd be much harder.
Knock on Wood - Defeat Freya while leaving at least 1 Elder alive on Normal/Heroic Difficulty.
Elder Ironbranch is probably easiest to leave up. He grants 50% more physical damage to the adds, which is mostly nothing. Snaplasher will hurt earlier but does that anyways. Otherwise it's just conservators, the other adds are mostly magic or whimpy physical ones.
Anyways, Freya is also granted the Strengthened Iron Roots ability. So call out who got it, everyone kill it. In normal it seems to have 16K hp to take out. You can also Cloak / Bubble / Block, and Blessing of Freedom, PvP Trinket, etc (moving impairing breakers) out of it now.
Leaving one Elder in 10 man grants you an [Emblem of Conquest] in replace of the Valor you would've gotten from the Elder himself.
Knock, Knock on Wood - Defeat Freya while leaving at least 2 Elders alive on Normal/Heroic Difficulty
We left up Stonebark for our 2nd Elder. It gives Freya the Ground Tremor, if you have boss mods, you can perfectly prepare for it. Most of the fight is relatively the same. Killing 2 on 10 man grants you a [Runed Orb].
Knock, Knock, Knock on Wood - Defeat Freya while leaving all 3 Elders alive on Normal/Heroic Difficulty
Lastly we believe Brightleaf to be the hardest for us to leave up. The lights were a bit lethal, and because we had to cautiously kill the exploding lashers, we started to fall behind whenever they came up.
On our 10 man kill, we found the fight to be very tightly tuned. It's a lot of damage, and dps has to be on the ball, so can't have many mistakes before it cascades into a wipe. A bit of an adjustment was that if we did fall behind during Lashers, it was ok to leave them running around. They aren't lethal til they explode, so we dealt with other wave if necessary first.
Trash Info:
4 Packs: They consist of a green dragon, a dryad, a tree, and a lasher. They are all probably CC'able. We slept the dragon, hex/trapped the dryad. Killed the tree, he heals, also does a Hurricane to not stand under. Lasher has Thorns so watch for the damage. Dragon can do a poison spit breath.
Flower Packs: There's a big flower and a bunch of small ones. You want to tank the small ones away from the big one, and dps it fast. The small flowers that surround it will heal him. And the big one is on a timer or something spawning more and more of them. Kill him before he does. If he does, OT the small ones and drag the big one away or vice versa and try again.
Big Guy + Dryads: Here these dryads do a bubble that heals them and is dispellable or spellstealable. But when that happens, it turns into a bomb blowing shit up. So just out dps the heals. The big one stomps or something I forget it's not much of a threat.
Sources:
http://www.wowwiki.com/Freya_(tactics)