05 - The Iron Council Strategy Guide
saedo — Sat, 04/04/2009 - 17:55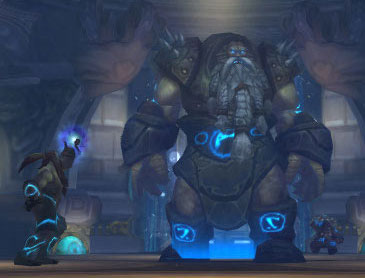 Health:
Normal: 3.3M each
Heroic: 10M each
Abilities:
Supercharge: Unleashes one last burst of energy as the caster dies, increasing all allies damage by 25% and granting them an additional ability
Steelbreaker (the Giant):
High Voltage: Inflicts 3000 Nature damage every 3 sec. Instant
Fusion Punch: An attack infused with energy that inflicts 18850 to 21150 Nature damage and an additional 15000 Nature damage per second. 3 sec cast (dispellable)
Static Disruption (1st Bonus): Deals 7000 Nature damage to enemies in an area and increases Nature damage taken by 75% for 20 sec. 50000 yd range, Instant
Overwhelming Power (2nd Bonus): The target becomes overwhelmed with power increasing damage done by 200% and causes a Meltdown after 1 min - The target melts down killing themself and dealing 29250 to 30750 Nature damage to friendly units within 15 yards.
Electrical Charge (2nd Bonus): Every time a player dies, Steelbreaker's damage increases by 25% permanently.
Stormcaller Brundir (the Dwarf):

Can be taunted / stunned, becomes immune to stun when he is the last boss alive.
Chain Lightning: Strikes an enemy with a blast of lightning that inflicts 7400 to 8600 Nature damage. The bolt will arc to additional nearby enemies, inflicting 20% more Nature damage to each successive target. 1 sec cast (5 targets, interruptable + cast slowable)
Overload: Focuses all the caster's energy into a single ball of lightning. This ball grows for 6 sec until it finally explodes, dealing 25000 Nature damage to all enemies within 30 yards and knocking them down. (not interruptable!) (not cloak of shadows resistable!)
Lightning Whirl (1st Bonus): Spins around throwing off bolts of lightning at random enemy targets. Each bolt deals 7069 to 7931 Nature damage. Lasts 5 sec. Channeled
Lightning Tendrils (2nd Bonus): Tendrils of lightning shoot out of the caster's chest, lifting them into the air. These lightning tendrils deal 5000 Nature damage to all enemies around the caster every second. (He will follow a player as he flies over the raid, aggro resets)
Stormshield (2nd Bonus): deals 250 damage to attackers and makes him immune to stuns.
Runemaster Molgeim (the Vykrul):

Runic Barrier: A shield of runic power surrounds the caster, reducing all damage taken by 50% and inflicting 2000 Arcane damage to attackers. Instant
Rune of Power: Summons a Rune of Power under a random friendly target. This rune increases damage by 50% of all friendly and enemy targets within 5 yards. Lasts 1 min.
Rune of Death (1st Bonus): Summons a Rune of Death at a random enemy target's location. This rune deals 5000 Shadow damage every half-second to anyone within 13 yards of that location. 50000 yd range, Instant
Rune of Summoning (2nd Bonus): Creates a Rune of Summoning near a random enemy. This rune will periodically summon Lightning Elementals, which will rush towards random enemies and explode. (Lightning Blast: Unleashes a large blast of lightning, dealing 14138 to 15862 Nature damage to all enemies within 30 yards of the caster but killing the caster in the process. Instant)
Hard Mode:
Hard mode here is just leaving Steelbreaker for last.
The Fight:
This will likely be the first real challenge in Ulduar. A 3 in 1 boss, each with their own HP and abilities, and similar to Karathress fight, they gain abilties as each one dies. Unlike Karathress, it's a brand new abiltity rather than taking one from the dead ones. The above ability list indicates the 1st bonus as the 1st ability they get after any of the others die. The 2nd bonus would be their 2nd ability when the 2nd dies, or in other words, when we save him for last.
I will list probably the 3 orders to kill this boss, based on achievements and hard modes. Yes, technically more are possible, but only the last boss alive counts, so easiest route for each.
Note: We've found that using a Pally tank to tank Steelbreaker is quite nice. Ability to self cleanse takes the whole healer must help cleanse at the right moment or the tank dies to Fusion Punch ticks out of the equation.
Steelbreaker (Big) -> Runemaster (Medium) -> Stormcaller (Small):
This is likely the easiest route to kill. Each one will basically just tanked away from each other while dividing the raid a bit to handle each boss.
Steelbreaker: Due to the nature aura, everyone should be clumped up to benefit from group healing. He can hit very hard on the tank, and CDs are recommended, thus DKs are recommended as a result. For us, it's likely have to be Nuitbear, probably. This guy does do a lot of nature damage, so maybe nature resist set time! Well when hard mode arrives. Everyone else burn him.
Stormcaller: Probable tank should be Orky, this boss is stunnable, interruptable, cast slowable. So with him, and maybe 1 or 2 others to help out, this guy should be locked down most of the fight. A DK has an advantage with a "short" CD, ranged interrupt incase of rune placements.
Runemaster: Last one left to tank is Pudo. No real tricks at this point, except maybe the ranged can watch to see if a convenient Rune of Power spawns to sit in for extra dps. Definitely don't take risks or go out of your way for it.
STEELBREAKER DIES!
Now the 2 other bosses gain new abilities.
Stormcaller: Does a whirlwind lightning too now, but still stunnable / interruptable, so the guys in his corner should still keep it under lockdown.
Runemaster: Everyone else move on to this guy. The new trick he has is a Rune of Death, basically new variation on the Void Zone. The problem is, it's friggin huge area, it ticks every 0.5 sec, very fast, so you're likely gonna take 6-12K damage before moving out of it. And with lack of Unholy Aura in 3.1 for the raid, run speed enchants might be in style again.
RUNEMASTER DIES!
Stormcaller left, but no longer stunnable, so spread out to avoid chaining the lightning, and the melee run out of the whirlwinds. The new ability he has is floating in the air, chasing some random guy down while firing off lighting aoe all around under him. Think of it as a fancy new whirlwind to run from. It's like Sartura in AQ40, run away! Aggro resets so wait for a tank.
Steelbreaker (Big) -> Stormcaller (Small) -> Runemaster (Medium):
Everything's the same up to Steelbreaker dying, so take that part of the above and throw it down here, then kill Stormcaller while avoiding the Rune of Deaths and don't stop the interrupt/stuns on him.
STORMCALLER DIES!
Runemaster left, and his new trick is summoning a rune, that summons 10ish kamikaze lightning elemental adds. They come out, chase someone down, and blow up for 15K damage (10K in normal) to everyone 30 yards around.
The adds can be slowed and should be killed before they reach anyone. They have 12K hp in normal. Frost Novas, earthbinds, frost traps should all be used to help with that. They kind of have and aggro table but seems to be a bit random, perhaps global threat sometimes.
That's the new trick, bunch of bomb bots to kill/survive from.
What we did is use a Frost Mage to blizzard em down. Definitely far easier and just one shot the thing with one.
Stormcaller (Small) -> Runemaster (Medium) -> Steelbreaker (Hard Mode):
This is the hard mode order we went with The nature aura will be with us the whole fight, so likely keep clumped up for group healing the entire time. If you have a Pally tanking Steelbreaker, he can self cleanse taking the Fusion Punch cleasning for the healers out of the equation for most of the fight. If you have a DK tank, the Anti-Magic Shield can prevent a magic effect, which means the dot, from applying, so that is able to take every 3rd (?) cleanse out of the equation.
Stormcaller should go down easy, should be locked down the entire fight (since he won't go interrupt/stun immune this version). Then kill Runemaster watch for Runes of Death.
Anyways, first ability to watch for after Stormcaller dies would be a Static Disruption, he targets a person to hit with it and the debuff spread around who he hits. So try to stay spread out a bit if possible to avoid chaining it.
After Stormcaller dies, the 2nd ability would be Overwhelming Power, it actually buffs your tank's damage by 100% for 1 min, before you explode. Think Vael, your tank will blow up and you have to change it. The death will heal him for 15% so got to just have enough dps to burn though all that before all your tanks die. Brez tanks to rotate back in if necessary.
Runemaster (Medium) -> Stormcaller (Small) -> Steelbreaker (Hard Mode):
This might be easier for some raids. Similar to above, but kill the Runemaster to eliminate the need to run around the Death Runes. The second guy then has to be locked down with kicks and stuns so the Lightning doesn't kill you. Do the rest like above.
Achievements:
I Choose You, Runemaster Molgeim: Defeat the Assembly of Iron with Runemaster Molgeim as the last member alive on Normal/Heroic Difficulty.
The medium difficulty kill
I Choose You, Stormcaller Brundir: Defeat the Assembly of Iron with Stormcaller Brundir as the last member alive on Normal/Heroic Difficulty.
The easy mode kill
I Choose You, Stormbreaker: Defeat the Assembly of Iron with Steelbreaker as the last member alive on Normal/Heroic Difficulty.
The hard mode kill
But I'm on Your Side: Defeat the Assembly of Iron while under the effect of an Iron Boot Flask on Normal/Heroic Difficulty
Personal achivement, get your boot flask from Frosthold. Use it, don't die, kill boss. Don't be a druid either. Well, can use it at the last seconds of the fight to get this.
You Can't Do That While Stunned: Defeat the Assembly of Iron without allowing Stormcaller Brundir to damage anyone with Chain Lightning or Lightning Whirl on Normal/Heroic Difficulty.
We did this while doing our Hard Mode order. The problem is that on pull he starts shooting lightning, so you have to have ranged interrupts quickly and on the ball. Or a rogue stealthed up near by and get that first kick off before he finishes casting. The hard part is the pull interrupt, after that you should be able to lock it down.
Trash Info:
See http://www.downfallguild.org/Kologarn trash info.
Videos:
10 Man Hard Mode:
25 Man Runemaster Last:
Sources: