06 - Kologarn Strategy Guide
saedo — Sat, 04/04/2009 - 22:52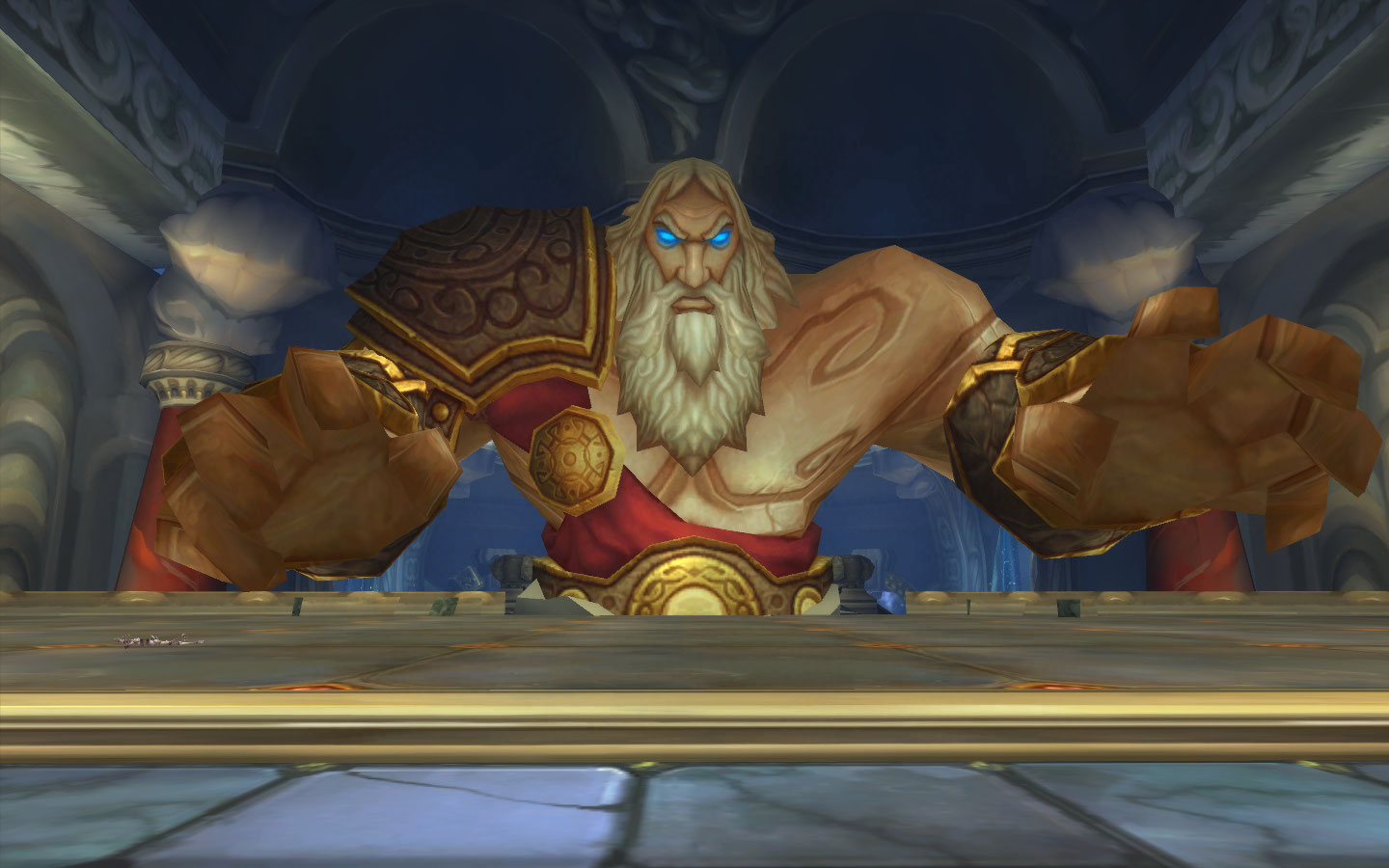 Health:
Normal: 5.2M (Arms 1.2M each)
Heroic: 20.9M (Arms 5.2M each)
Abilities:
Focused Eyebeam: Inflicts 4163 to 4837 Nature damage to enemies within 3 yards.
Petrifying Breath: Inflicts 18750 to 21250 Nature damage every 1 sec and increases damage taken by 20% for 8 sec. (Brittle Skin - Increases damage taken by 20% for 8 sec.) - Only does this if no one is in melee range
Overhead Smash: The not so massive attack Inflicts Physical damage and decreases armor by 25% for 45 sec. 5 yd range, Next melee; Stacks to 4, used every 10-15 seconds.
Overhead Smash Tremor: The massive Overhead Smash causes a tremor which Inflicts 6338 to 6662 Physical damage and interupts casting for 8 sec.
One-Armed Overhead Smash: Same as overhead smash but less power, used when 1 of the arms is destroyed
Stone Shout:

Unleashes a hail of jagged rock, striking target enemy every 0 sec for 2 sec, and damaging any additional enemies within 50000 of the target.

Does about 3K damage per tick, only used if both arms are destroyed
Left Arm (our right):
Shockwave: The shockwave from the massive arm sweep inflicts 13875 to 16125 Nature damage.
Right Arm (our left):
Stone Grip: Squeezes the life out of the target, stunning it and inflicting 5363 to 5637 Physical damage every 1 sec until Kologarn's Arm sustains 480,000 damage; Targets 1-3 people. Less damage in 10m, and needs 150K damage.
The Fight:
Firstly, the boss is just stuck on the ground, won't move, can't get behind him, so melee will suffer from parries and such. There must always be someone in melee range or he wipes the raid. He does slow hits, so optimal tanks appear to be druids or DKs.
He has 2 arms as seperate entities to target and kill if you wish so. Killing one will knock off 15% of his HP, but each arm has more HP than that. They respawn 60 seconds later. Also killing one will spawn 5 adds, must be tanked and they aoe us, but can be stunned. Best done with a warrior's Shockwave.
The Left Arm will Shockwave us every 25 or so seconds.
The Right Arm will Stone Grip 1-3 non-MT raid members, and they must be healed. Here there are 3 methods of thoughts of dealing with it:
Leave the Arm up, heal through it the rest of the fight or...
Attack the Arm to release the trapped ones, but be ready to tank/stun adds when the arm dies.
Or kill the right arm at all times, deal with adds, then kill the boss, which is what we did.
For the main boss himself, with the Crunch Armor debuff, you'd want 2 tanks trade taunting off. Though in 10 man, it appears to apply less frequently and fails to stack often.
There's a laser beam for the raid to avoid as well.
Note for Melee: If you're attacking arms, you may notice sometimes you can't hit him. With auto-attacks or whatever, and you have to reposition and stuff. What's known now is that Kologarn is one giant hit box for both him and his arms. So what you should be doing is facing him at all times, just retarget arms when attacking those, do not turn. You don't have to run from arm to arm, you are able to target him and any of the arms simply standing anywhere in front of him, facing the main body.
Trash Info:
Dwarf Packs (10 man): 3 mobs, a Mender, a Charger, and a Construct. We killed the Mender cause we didn't like his name. The charger appears to just do a weak chain lightning. Killed him next. Construct was just debuffing Nuitbear with a slowing thing.
Dwarf Packs (25 man): The packs are doubled in size (2 of each of the above), and are more lethal. The Charger does a thunder ball that does a lot of damage to the area it hits. The Constructs root themselves but do 100% more damage. The tank can run out but there better not be other people in range he can smack. The Menders are CC'able, maybe all of them all. Adjusted tactic was to sheep the Menders, burn down the Chargers first. Then the rest, I think menders after.
Big Construct Packs: 2 Constructs, they have flamethrowers, so don't be in front of him. They also "throw" out runes on the ground underneath people. Whoever stands under em turns into bombs. Don't blow the raid up.
Big Titan Packs: Single pulls, they have a front cone aoe shout that's physical damage, physical avoidance works. They summon spark things that do minimal damage in 10 mans.
Achievements:
With Open Arms: Defeat Kologarn without destroying either of his arms on Normal/Heroic Difficulty
Simple enough to try to do. Only means we employ the tactic of screw the guy in the Stone Grip, and heal through it. Or, hit it just enough to release him, and hope you got enough dps to finish off Kologarn before requiring you to kill the arm. Or combine the two a bit, when arm is low, screw the guy in Stone Grip and focus on Kologarn. Definitely see several possiblities to try.
Disarmed: Destroy both of Kologarn's arms within 10 seconds and then defeat Kologarn on Normal/Heroic Difficulty.
There's a possible bug where if you use the arms to kill Kologarn, it will not count (they take off 15% hp each). We did the Right Arm zerg strat til Kologarn was 40% ish, make sure Kologarn is above 30%. Then got some dps on the Left Arm. Went back on the right arm, while switching sometimes to keep left arm low too. Then kill right, kill left, kill Kologarn.
If Looks Can Kill: Defeat Kologarn without any raid member being hit by Focused Eyebeams on Normal/Heroic Difficulty.
Simple enough, don't get hit. Nobody gets hit.
Rumble and Roll: Defeat Kologarn with 25 Rubble creatures alive on Normal/Heroic Difficulty.
This might be deceptively tricky. First thing is, someone OT'ing the Rubble to the side of course. But each arm only seems to spawn 5 rubble. So to do this, we need 5 arm deaths in the fight. But, we killed Kologarn with only 3 arm deaths.
This could mean, we cannot dps Kologarn himself at all. We must only deal with the arms. And since we can't have both arms dead at the same time, it could mean we only kill 1 arm the entire fight. So kill an arm, wait 60 sec, kill right arm again, etc.
Well but arms only take off 15% of Kologarn's HP each, so that's 5x15% = 75%. That's still 25% of his hp we can afford to dps. Though, that means at most 5% after each arm. 5% of hp in 60 sec. That's nothing, there'll probably have to be forced downtime if we do this.
Perhaps just more tanks dealing with the adds without killing them be the way to go.
Sources: