11 - Mimiron Strategy Guide
saedo — Thu, 04/16/2009 - 14:22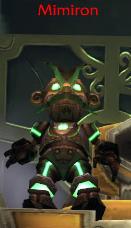 Health:
Heroic: About 27.75M total
Normal: About 7.62M total
Abilities:
Leviathan MKII:
6.9M Heroic, 1.74M Normal
Weak melee damage
Proximity Mines: Drops about 10 mines next to the Leviathan, walking over them will make them explode for 20,000 fire damage. This can be disarmed by Rogues.
Napalm Shell: Fires a shell filled with napalm at a random enemy target. The shell explodes upon impact, dealing 7540 to 8460 Fire damage instantly and an additional 32000 over 8 sec. This effect attempts to target enemies over 15 yards away if possible.
Rocket Strike: Launches a rocket towards a random enemy. Once the rocket reaches the destination, it deals 5000000 Fire damage to all enemies within 3 yards
Plasma Blast: A stream of plasma errupts from the cannon, dealing 30000 Spellfire damage per second for 6 sec. This effect cannot be resisted. 100 yd range, 3 sec cast / Channeled, 7 sec cooldown. Cast about once every 30 seconds
Shock Blast: Deals 100000 Nature damage to all enemies within 15 yards. 4 sec cast. Cast about once every 30 seconds
Plasma Blast and Shock Blast alternate
VX-001:
6.9M Heroic, 1.74M Normal
No aggro
Rapid Burst: Unleashes a series of short plasma bursts towards a random enemy, dealing 1885 to 2115 Spellfire damage per burst for a total of 6 bursts over 3 sec.
Spinning Up: The VX-001 starts spinning and P3Wx2 Laser Barrage is cast, don't be in front of him
P3Wx2 Laser Barrage: Spins up the dual cannons for 4 sec before unleashing a spray of lasers in a random direction, dealing 20000 Spellfire damage every 0.25 sec to all enemies caught inside. Lasts 10 sec. (This is a rotating beam using the same mechanics as C'thun Eye Beam or Lurker Below Spout) He always turns clockwise, and it's less than a 180 degree turn.
Rocket Strike: Launches a rocket towards a random enemy. Once the rocket reaches the destination, it deals 5000000 Fire damage to all enemies within 3 yards.
Heat Wave: Fires out a blast of heat, dealing 1885 to 2115 Fire damage instantly and an additional 10000 Fire damage over 5 sec to all enemies.
Aerial Command Unit:
4.7M Heroic, 1.6M Normal
Ranged tanked, adds incoming
Plasma Ball: Builds up a ball of plasma and fires it at a target, dealing 14138 to 15862 Spellfire damage. 30 yd range, 2 sec cast, spammed every 3-4s.
Assault Bot:
1M Heroic, 500K Normal
30K hits
Possibly kited in Heroic vs Tanked.
Magnetic Field: Projects a magnetic field towards the target, locking them in place. In addition, the target will take an extra 30% damage from all sources. Lasts 6 sec. 30 yd range. Can be dispelled
Drops a Magnetic Core on death
Summon Magnetic Core: Deploying this magnet under the Aerial Command Unit will temporarily bring it to the ground and disable it. While it remains disabled, it will take an additional 50% damage from all sources, for 1 min.
Bomb Bot:
These bots will walk through the raid for a moment and eventually explode for 9425 to 10575 fire damage in a 5 yards radius, run away from them!
Junk Bot:
110k hp Heroic, 65k hp Normal
Weak adds to dps down
V0-L7R-0N:

3 phases merge, 3 targettable sections, but each start at 50% hp

All 3 sections have to killed within 5-10 sec of each other.

Each have seperate aggro and must be "tanked" like before

Bottom is Leviathan, Middle is VX-001, Head is Aerial Command unit

Leviathan: Proximity Bombs and Shock Blast
VX-001: Rocket Strike, P3Wx2 Laser Barrage, and Hand Pulse - Fires a pulse of energy towards a random enemy, causing 6598 to 7402 Spellfire damage to all enemies in a cone facing the target enemy. 50000 yd range, 0.85 sec cast
Aerial Command Unit: Plasma Ball
The Fight:
So this is one crazy shit face of a fight with essentially 4 phases, lots of stuff going on, damage and adds and things to avoid.

Phase 1: Flame Leviathan MKII
On engage, Mimiron will jump into his personal Flame Leviathan. Tank and spank it for the most part. Melee have to watch for land mines. Melee have to watch for Shock Blast and run the fuck out, 4 sec cast. Ranged have to watch Napalm (fire), think Void Reaver orb shots. Supposedly he hits very weak, most of the damage will be from the shit he spews out.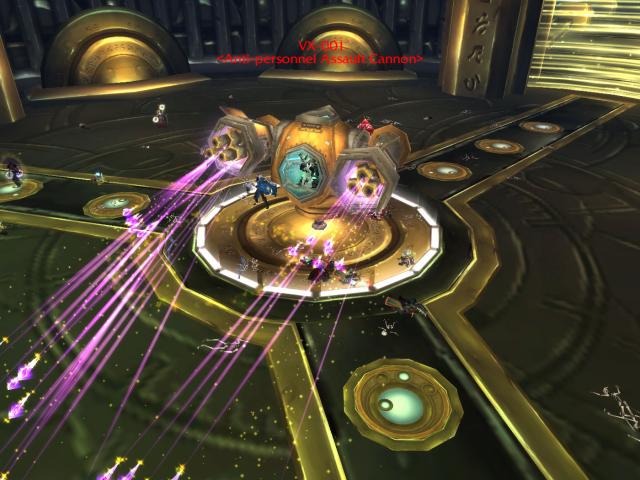 Phase 2: VX-001:
After that's destroyed, he gets into his anti-personal cannon. We would likely just form a circle around him, think Lurker Below.
No real aggro here I believe. So go nuts.
Stay out of fire. Watch for rockets. There's a small red circle which is the target (you).
Then there's the lasers. That's similar to the Lurker Spout or C'Thun eye beam. He'll be spinning up, we gotta stay the fuck away from the front when he does that. Then supposedly run around in a clockwise fashion to avoid it, and he appears to only do it 180 degrees. So half circle, not full like the others.
Phase 3: Aerial Command Unit
This parts needs a ranged tank. He'll be spamming 9K ish hits to highest on aggro and the melee can't touch him for the most part.
After that tank has aggro, dps away.
Meanwhile, the ground has adds for the others and possibly some of the ranged to help with. It's a way to drop aggro if anything.
Junk bots are shitty little things to kill off quickly, they spawn from Green Beams.
Bomb bots are shitty little things to get the fuck away from. They blow up if you didn't get it yet. Ranged can help clean em up before they reach raid. They spawn from Mimiron.
Next is the real trick, the Assault Bots. They hit hard, really hard. So if we can't tank him, need a ranged to kite em. Someone that can snare preferably. They can snare their target too, and it's dispellable. They spawn from the Red/Orange beams.
After killing one of those, it drops an item we can use. The Magnetic Core, using this would bring the Aerial Command Unit down for 1 min and it takes extra 50% damage during this time. So burst dps CDs for this part.
Phase 4: V0-L7R-0N
Mimiron combines all 3 of his creations into one. Each piece is targettable. Each piece has it's own aggro (if applicable) table. And they all must die within 5-10 sec of each other. But they each start at 50% of their hp.
Split the dps, with possibly target switching on the fly to even things out.
They have most of the important tricks to them.
Flame Leviathan has his mines and shock blast, so melee must run and avoid those.
VX-001 has the Rocket Strike to avoid. Along with the big laser for the raid to run the fuck away from (clockwise).
Aerial Command Unit still must be ranged tanked.
This is pretty much a dps burn down now while avoiding things that could kill you.
Collect loots.
Hard Mode:
There's a big red button behind him. T he raid should walk around the room to under the button. Hard mode is activated by push it to initiate the fight. Everything does 25% more damage. Also turns it into an 8 minute enrage. Also has new abilitiles.
Doomfires that follow you around in every phase. Frost Bombs in P2 to avoid. Water bots in P3 that do put out fires, but does frost damage to you too if you get in the way.
Phase 1: Before running in, wait til the first Doomfire spawns, that way, it's not right on your ass when you do start. We tanked Leviathan himself along the walls of the room, just kiting him around when needed. The doomfires can be semi-kited by ranged as they seem to proximity aggro. Otherwise, fight is same with more damage, just avoid fires.
Phase 2: During transition, group up at an edge of the room, gather all the fires together and slowly inch away. This is to keep the fires away from the middle in the beginning. Your goal is to keep close to fire without actually getting hit by fire. Anyways, after the doomfire respawns, rush in to attack VX. Same fight basically with more damage, and doomfires approaching you. He does do a flame suppression for the melee but only if he's not Lasering. Another trick to watch for is the Frost Bomb, puts out fires, but also damages you and knocks you back. Look for a bluish orb, stay away from that side of the room until it goes off. Heroism this phase to get it over with, only phase you can really spend full time dps on (mostly).
Phase 3: Same as previous transition, gather up and don't let the fire spread all over the place. Frost bots will show up now, and I believe they don't silence in 10 man anymore, but still do in 25 man. Their water sprays also knock you back, kill em if they're a nuisance to you otherwise let em do their thing. Tanking wise, it'll be similar to Phase 1, you'd have to kite all around the outer edge of the room. However, make use of LoS, when you want to drop the head, forces it into a corner away from Doomfires (for a bit) and go all out dps. You need to pass this phase in about 2 drops, else you might not make the enrage timer.
Phase 4: Like phase 1, just combine all the damage, yadda yadda yadaa. Kite outer edge, watch for doomfires, kill kill.
Achievements:
Set us up the Bomb - Defeat Mimiron without anyone in the raid being hit by the following on Normal/Heroic Difficulty.
Another raid check. Don't get hit by rockets, mines, or bomb bots. This is a progressive achievement so can do it once per week.
Not-So-Friendly-Fire - Force Mimiron to kill a Assault Bot with a Rocket Strike on Normal/Heroic Difficulty
Sounds like we have to OT an Assault Bot into phase 4. Then find a Rocket Strike to drag him in.
Firefighter - Defeat Mimiron after activating his Self-Destruct mechanism on Normal/Heroic Difficulty.
Hard Mode, 25% more damage all around and an 8 min enrage now and new abilities.
Trash Info:
So the trash is hard. Hard enough that people recommend trying to have someone bubble run through them to the otherside and rez the raid, summon the rest. We kind of found a more managable less cowardly solution. ;p
Mechano Packs:
There's a I believe 4 packs of these. The 1st one is the easy one, there are no Sappers, yet. Get to those later.
There's a Arachnopod that if you defeat, you can get on and ride it for about 5 mins.
There's bomb bots.
There's Trash, which seems to be just little do nothing shits. lol
There's these mechognomes that build frost turrets that do 4K a tick all around them. But are killable too.
I recommend the first thing to kill is the Arachnopod, then you can get inside it and use it like a vehicle to help kill the others. It is also immune to the Frost Turret's effects. Here are it's abiltiies:
Machine Gun - standard dps
Flamethrower - it believe it's a 10 sec CD for massive frontal aoe fire damage to them
Leap Stun Thingy - It's a targetted jump, and aoe stuns where it lands, 20 sec CD i think
Anyways, it's probably advisable to treat this a bit like a gauntlet, thought not as hectic Cause you have limited time with the Arachnopods, and they're gonna help with the next pack which have:
Sappers: These fuckers target people and drain 5K mana per second while doing like 7.5K per sec ticks and transfering damage you do to them to someone else. They are stunnable and fearable.
So here's where those Arachnopods come in handy. Use them to help with the stuns and zerg the fuckers down. Afterwards, standard kill the rest.
There's more Arachnopods in each pack, so you can have a few in the raid helping with this.
Videos:
10 Man Firefighter (with fail Shadow Priest)
Sources: