09 - Thorim Strategy Guide
saedo — Sat, 04/18/2009 - 14:17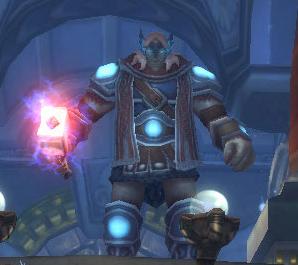 Health:
The Fight and Abilities:
This fight is a bit more, hectic, so I'll list abilities of the adds as they appear as I go along.
Gist of it, a gauntlet arena. Adds come, we kill. Then akin to Gothik, raid must be split up with part dealing with adds, part dealing with Thorim himself.
Phase 1:
Thorim is practically immune to damage so don't bother attack him. He will be attacking us though.
Stormhammer: Throws a stormhammer, dealing 2451 to 2551 damage to an enemy, knocking down and stunning the target for 2 sec, and causing a deafening thunderclap to all enemies nearby the target. 100 yd range, 0.5 sec cast
Deafening Thunder: Inflicts 4625 to 5375 Nature damage to enemies standing in close proximity to a Stormhammer strike, increasing spell casting times by 75% for 8 sec. 50000 yd range, Instant
Charge Orb: Charges a nearby orb with electricity. Causes Lightning Shock - Inflicts 2831 to 3169 Nature damage on a nearby enemy.
Berserk: Empowers allies with the full might of Thorim. This spell will increase damage done by the adds by 500%, casting speed by 200%, and their health by 300%. This is an enrage ability casted on all the adds if players take more than 5 minutes to reach Thorim at the top of the Arena.
What we will be dealing with first are Jormungar Behemoth and Captured Horde (or Alliance if you're Horde). They shouldn't be too hard to deal with.
Jormungar Behemoth:
Acid Breath: Spews acidic bile at a target and nearby enemies, inflicting 12000 Nature damage and 1500 additional damage every 2 sec. for 18 sec. 50 yd range, 1 sec cast
Captured Mercenary Captain:
Devastate: Sunder the target's armor causing the Sunder Armor effect. In addition, causes 50% of weapon damage plus 90 for each application of Sunder Armor on the target. The Sunder Armor effect can stack up to 5 times.
Heroic Strike: A strong attack that deals 3938 to 5062 additional Physical damage
Captured Mercenary Soldier:
Barbed Shot: Fires an arrow that pierces an enemy's flesh, inflicting 4513 to 4987 Physical damage and causing 500 damage per 3 sec. for 12 sec. 45 yd range
Kill em all.
Phase 2a: Constructs
The constructs of all types (healer, casters, melee) from the stands all jump into the ring and this is where we have to split the raid to deal with them.
Dark Rune Acolyte:
Greater Heal: Calls upon Holy magic to heal an ally for 94500 to 115500 Health. 40 yd range, 2 sec cast
Smite: Smites an enemy, inflicting 7650 to 9350 Holy damage. 50 yd range, 1.5 sec cast
Dark Rune Champion:
Whirlwind: Attacks nearby enemies in a whirlwind of steel that lasts 2 sec. and inflicts normal damage plus 50.
Mortal Strike: Inflicts 250% weapon damage and leaves the target wounded, reducing the effectiveness of any healing by 50% for 5 sec
Charge: Charges an enemy, inflicting normal damage plus 75 and stuns the opponent for 2 sec. 8-25 yd range
Dark Rune Commoner:
Low Blow: Lands a cheap shot on an enemy, inflicting Physical damage and reducing the target's damage dealt by 3% for 20 sec. 5 yd range, Instant
Dark Rune Evoker:
Runic Lightning: Strikes an enemy with a blast of runic lightning, inflicting 7875 to 10125 Nature damage. 150 Mana, 45 yd range, 1.5 sec cast
Runic Mending: Heals an ally for 18500 to 21500, then heals for an additional 6000 every 1 sec. for 15 sec. 280 Mana, 40 yd range, 2 sec cast
Runic Shield: Surrounds the caster with a runic barrier, absorbing 120000 magical damage and reducing all Physical damage taken by 50%. 330 Mana, 30 yd range, 0.5 sec cast, 6 sec cooldown
Dark Rune Warbringer:
Aura of Celerity: Increases nearby allies' melee, ranged, and casting speed by 20%. Instant
Runic Strike: Strikes at an enemy with an electrified weapon, inflicting Nature damage equal to weapon damage plus 1000. 5 yd range, Next melee
Iron Honor Guard:
Cleave: Inflicts 150% of normal melee damage to an enemy and its nearest ally.
Shield Smash: Inflicts 7400 to 8600 Physical damage to an enemy, stunning it for 3 sec.
Hamstring: Inflicts 50% weapon damage to an enemy, reducing its movement speed by 60% for 5 sec
Titanium Stormlord:
Cyclone: Attacks nearby enemies in a whirlwind that inflicts 100% weapon damage as Nature damage.
Again the raid must split up, remember you only had 5 minutes to reach Thorim. Part of the raid stays behind dealing with the above adds, the other part head to....
Phase 2b: Tunnel
So this part of the raid is the task force assigned to reach Thorim and force him into the arena.
There are adds here too to deal with. And the first mini boss is similar to the pinnacle gauntlet, he'll light up one half of the room with fire you just gotta stay out of. Watch which of his hands are raised.
Dark Rune Thunderer:
Lightning Brand: Shocks the target for 3500 Nature damage to the target, and increases Nature damage taken by 40% for 20 sec. 8 yd range, Instant
Iron Ring Guard:
Impale: Deals a vicious attack that causes the target to bleed profusely until healed past 90% of its maximum health. Deals 1750 damage every 2 sec. for 1 min or until removed via healing. 5 yd range, Instant
Ravage Armor: Reduces the target's armor by 5%. 8 yd range, stacks up to 20.
Whirling Tip: Knocks down nearby enemies, stunning them for 2 sec. and inflicting increased weapon damage.
Runic Colossus (Mini-Boss):
Charge: Charges an enemy, inflicting 6938 to 8062 Physical damage and knocking the enemy back. 8-40 yd range, Instant
Runic Barrier: A shield of runic power surrounds the caster, reducing all damage taken by 50% and inflicting 2000 Arcane damage to attackers. Instant
Smash: Deals 37000 to 43000 Physical damage to all enemies within a 10 yard cone in front of the caster. 3 sec cast, 2 sec cooldown
Ancient Rune Giant (Mini-Boss):
Rune Detonation: Immobilizes a target with a runic ward that detonates after 4 sec to inflict 11250 to 13750 Fire damage around the target. 60 yd range, Instant
Stomp: Inflicts 12250 to 15750 Physical damage to nearby enemies and knocks them back. 10 yd range, Instant
Reaching the top of the arena at the end of the Hallway he'll jump into the Arena where the first part of the raid is.
Phase 3: Thorim
Touch of Domination: Subjugates the target to the will of Yogg-Saron, weakening it yet conferring a subtle control. Reduces Thorim's health and damage by 25% if the raid reaches him after the 3 minutes hard mode timer.
Chain Lightning: Strikes an enemy with a blast of lightning that inflicts 3700 to 4300 Nature damage. The bolt will arc to additional nearby enemies, inflicting 100% more Nature damage to each successive target. 150 Mana, 100 yd range, 0.5 sec cast
Lightning Charge: Absorbs a torrent of electrical energy, inflicting Nature damage to enemies in a cone between the caster and the power source, and increasing the caster's melee damage and attack speed by 15%, and Nature damage dealt by 10%. 100 yd range, Instant
Lightning Charge: Absorbs a torrent of electrical energy, inflicting 13875 to 16125 Nature damage to enemies in a cone between the caster and the power source. 150 yd range, Instant
Unbalancing Strike: Inflicts 200% weapon damage and leaves the target unbalanced, reducing their defense skill by 200 for 15 sec. 8 yd range, Instant
DPS race at this point. Spread out for lightning. A move that kinda sounds like the 2nd Occulus boss where he charges up and lights an entire section. Anyways, kill before his damage gets too high. Maybe switch tanks for Unbalancing Strike.
Fight Summary:
Because that was a lot to take in, I'll reiterate the keys of the fight.
Kill the giant worm and the soldiers
Raid splits up, in 10 man we did a 4 in the tunnel, 6 remained. 25 man used 15 and 10.
Arena Group stays and deals with adds, killing em.
Hallway Group opens lever, enters a gauntlet, watch the Colossus' arm to know which half of the hall to avoid, he'll light it up
Kill the Colossus, go up stairs, another miniboss, turns you into bombs, but roots you so raid has to run from you
Then it's clear sailing to reach Thorim, watch timers if you want to attempt/avoid Hard Mode. It was actually quite easy and we reached him at about 2.5 min so took a bit of a wait.
Jump into the arena with Thorim, finish off the adds, spread out, kill him.
Hard Mode:
To reach hard mode, we reach Thorim in 3 mins or less. Not only does he have 25% more damage and health, Sif will be around. Can't kill her, but she'll be attacking us, so more damage all around.
Frostbolt Volley: Inflicts 9000 to 11000 Frost damage to nearby enemies, reducing their movement speed by 50% for 4 sec.
Frost Nova: Inflicts 9425 to 10575 Frost damage to nearby enemies, immobilizing them for up to 6 sec. 2.5 sec cast
Blizzard: A rain of ice moves around the room, dealing 3282 to 4218 Frost damage every 1 sec. for 10 sec. and lowering the movement speed by 65%.
Our Positioning:
Thorim Positioning
Achievements:
Don't Stand in the Lightning - Defeat Thorim without any raid member being struck by Lightning Charge on Normal/Heroic Difficulty.
Raid check, watch the orbs around the room, don't be on the side of an active one. It's a little lightning trail the goes from Thorim to an orb. Move.
I'll Take you all On - Defeat Thorim, the Ancient Rune Giant and the Rune Colossus on Normal/Heroic Difficulty
From the words it seems to mean you were part of the Hallway group. Would have to simply rotate people to do it for this one. But atm, it seems it doesn't seems to complete regardless, so just a normal defeat of Thorim.
Who Needs Bloodlust - Defeat Thorim while under the effect of Aura of Celerity on Normal/Heroic Difficulty.
This aura comes from the mob, a Warbringer. What has to be done is a priest must MC one, pretty much at least during Thorim phase itself. Apparently this is party based, so need a priest for each party, or have to rotate each week.
Siffed - Force Thorim to enter the arena while Sif is present on Normal/Heroic Difficulty.
This is just activating Hard Mode, reach him within 3 mins. Quite easy since you don't even have to beat him.
Lose Your Illusion - Defeat Thorim while Sif is present on Normal/Heroic Difficulty.
The real Hard Mode. This is where you actually have to defeat Thorim. Basically more HP, more damage, and Sif is also throwing frost spells at the raid, slowing the raid members. Dispels will be needed for frost novas incase the aoe is on their side as well. As a note, the Lightning Charge is pretty lethal here, probably one shots you. Unlike ezmode where it's survivable damage....
Trash Info:
Vykrul Packs: They come in pairs and there's only 2 of them. The Thunderer just does damage, nature hits mostly, not very threatening. The Ravager sunders armor, a lot, able to reduce Nuitbear to zero armor with enough stacks. 10% per stack? Anyways, this means the tanks might want to trade off once they get too many. Or, just try to zerg the Ravager down fast. Very fast before the tank bites it.
Sources: